Facebook Pixel provides different events (conversion, leads, e.t.c.) codes that can be added to your Thank You Page. These codes help track specific conversions from specific pages on your website.
Initial Domain Setup
Before you set up a Facebook Pixel on a page on your website we need to set up that page so that it can point to the New/Mode servers. The process is a bit technical and can take about 3 weeks but it's painless, we promise!
Before you start:
You need access to your organization's domain's DNS records along with the ability to create subdomains.
You need at least 3 weeks of time before your planned launch date, as this process requires some help from our Development team and they need to be able to fit this work into their development schedule.
A subdomain usually looks like a section of a main (root) domain, and has its own URL. For example, New/Mode's root domain is on the URL www.engage.net, and the subdomain where you're reading this article is on the URL support.newmode.net.
Process:
Create a subdomain within your organization's domain to host the web page where your action will be embedded.
Contact our Support team and send us:
- the URL of the subdomain you just created, and
- the URL of the action you're looking to attach a Facebook Pixel to.
We'll pass those details to our Development team, and after they've done some work we'll send you a short DNS configuration file. You'll need to add that file to your root domain's DNS as a CNAME record within 72 hours, and let us know when you're done.
Our Development team will do a bit more work on their end, then we'll send you a domain name. You'll need to update your root domain's DNS mapping with a new line specifying your subdomain URL as the Host and the domain you just received from us as the Address.
If you haven't verified your domain in Facebook Business Manager before, do that by following this guide (it will open in a new window). You're now ready to set up a Pixel!
Setting up Facebook Pixel:
Step 1: Follow the steps in this article create your Facebook/Meta Pixel.
Step 2: Add the Pixel code to the page where your action is embedded, with the specific event code that you want to add to certain pages.
Step 3: In your action, go to Outreach -> Activate on Facebook and scroll down to the Facebook Pixel section.


Step 4: Click the Add a Facebook Pixel button, and enter your Facebook Pixel ID.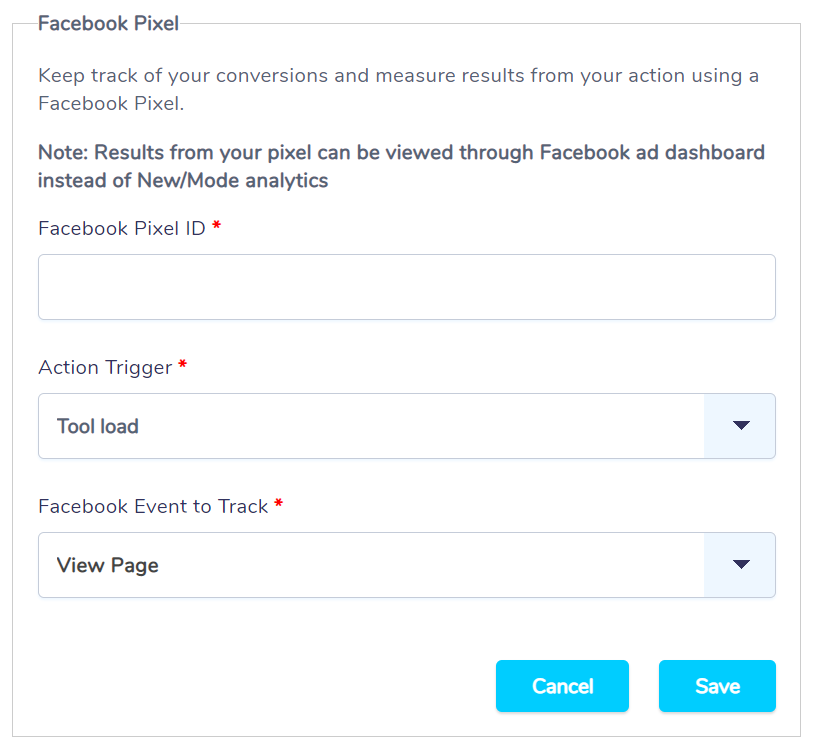 Step 5: Choose your Action Trigger - this is the action that will make your pixel fire. It can be based on Tool load, Thank you page load, or Submit, which you can select from the Action Trigger drop-down.

Step 6: Choose your Facebook Event to Track from the drop-down. This is what the firing of the pixel will be registered as on the Facebook side. The events we currently support are: View Page, Lead, Complete Registration, Search, Contact, Donate, Submit Application and Subscribe.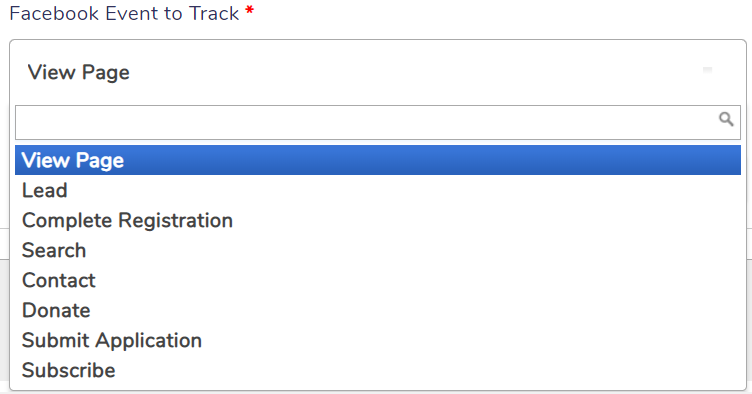 Step 7: Save your changes, and you should see the pixel firing as soon as submissions start coming in on the page where you added the pixel code. You can add as many Facebook Pixels as you want by repeating these steps.