You can see a complete list of easy to copy-and-paste tokens here.
Under your Content screen, you'll see three different token categories. Each is in charge of a different aspect of your campaign tool. Some tokens will generate data automatically, like a date and time. Other tokens need context generated by supporters taking action, like name and email tokens: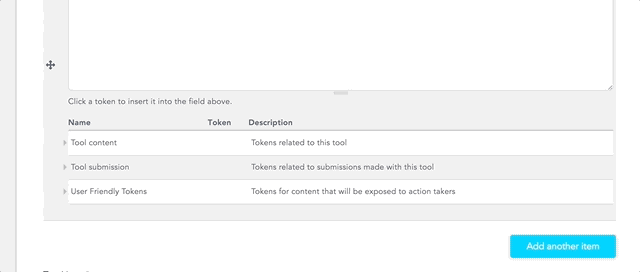 Tool Content
This category includes tokens that will automatically generate data in the background for and by your user, like your organization name, a randomly selected email heading, or a progress bar showing how many supporters have already taken action.
For example, this token: [node:og-group-ref:title] will create a thank-you email sign-off using the name of your Organization.
Tool Submission
This category includes tokens that will generate submission data created when a supporter takes action, like the date the action is being taken and the names of targeted recipients.
For example, this token: [submission:values:first_name] will require supporters to enter their first name in a field in order to complete an action.
User Friendly Tokens
This category includes tokens that your supporters will see. These tokens explain what type of data will replace the token placeholder text, which is customized to help your supporters through an action.
For example, in an automatically generated email form, a supporter will see [your name will go here] in the signature line for the email they're sending.