New/Mode's Location-Based Targeting filtering system can help bring additional focus to your campaigns and ensure that your supporters are able to connect with the decision-makers that matter most.
Filtering Options
Filtering applies to all tools except for our Letters to Editors Tool, which uses a different data set to target newspapers rather than individual decision-makers.
To access location-based target filtering options, go to the Components screen under Advanced settings. You'll see one component under the Type column labeled as Elected. Click Edit:

(Typically there is only one Elected component, but it is possible to set up cascading elected components).
You'll be taken to the Edit Component page, where you'll need to scroll down to get to target filtering: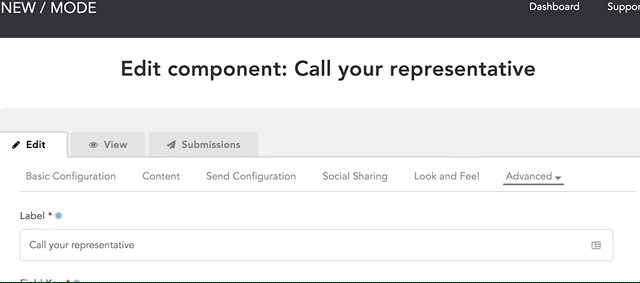 Basic Filtering
In almost all circumstances, basic filtering is applied to New/Mode tools by default. These filters prevent tools from connecting to targets that don't have the necessary data for a supporter to complete an action. For example, Filter for Email is automatically checked (as in the below image) for our Emailing Tool, so that only targets with valid email addresses will come up on the tool form:

Advanced Filtering
Our advanced filtering options allow you to refine the results of location-based targeting using Elected Office and Party:

Filter for Elected Office
Filtering for Elected Office will ensure that you only return targets that have particular titles or Positions. You can do this by listing position titles, one per line, under the Filter for Elected Office text area (as shown above).
For example, if you're working with municipal data that returns Mayors, Councillors and Committee Members, you may want to prioritize Mayors and Councillors, and cut out Committee Members. By listing the position titles that you do want to contact, you can ensure that only Mayors and Councillors are displayed to supporters.
Filter for Party
Filtering for Party follows a similar concept, allowing you to list parties, one per line, under the Filter for Party text area (as shown above).
For example, if you want to only point your supporters at NDP and Green Party representatives, you can add the name of each party to a unique line.
Defer to Components
Defer to Components filtering is the most complicated filtering option that New/Mode has available. Due to its complexity, if you are thinking of using Defer to Components for the first time, it might be a good idea to reach out to the New/Mode support team for assistance.
We can, however, still offer you a brief walkthrough of how this filtering option works.