One of the exciting new features coming to New/Mode is our SMS Chatbot & Broadcast. While we're still building this out - here is a guide on how to use its features! To begin, navigate to the "Outreach" tab on your New/Mode tool. You'll see three tabs: Recipients, Message, and Send. Let's go through them one by one!
RECIPIENTS
The first tab you'll want to interact with is the Recipients tab. At the very top, you'll see a Status Report - this will be useful to see how many recipients are in the queue to contact, how many responses you've received, and how many messages have been delivered. To get started, let's scroll down to Upload Supporters.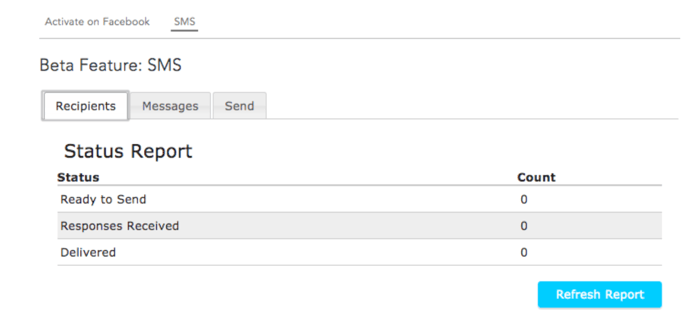 In Upload Supporters, you'll want to upload your supporter list. An example CSV can be accessed here for you to examine the formatting. You'll need to include a phone column, but can also include columns for First Name, Last Name, Zip / Postal Code and Email. The CSV upload may take some time - we'll email you a status report letting you know if the CSV has been uploaded successfully, or if there are errors that need to be addressed.

You can also create Short Code Keywords for your users to text in to to opt in for future SMS updates.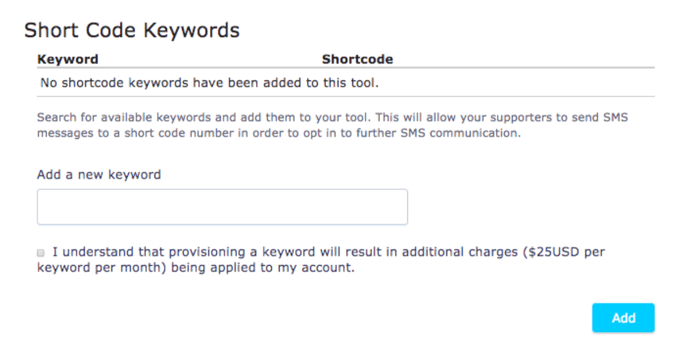 MESSAGES
Once uploading your supporter list, you can move onto the messages tab. We have two types of messages you can send: a single message, or a chatbot that triggers a call to action. Let's go over both
A Single Message:
This option is great for message blasts - letting supporters know about upcoming events, reminding them to vote (or whatever you decide to use it for). This can also be used to gather supporter information - if you already have their information provided by the first question, you can add a second one for our service to fall back to. Once typing your Message, you can choose which Component to save your responses to. This can either be an existing component (First Name / Last Name / Email) or, our system can generate a new one to store the responses in

Chatbot
Our second option is to generate a chatbot that triggers a call to action. Here, you'll want to create question asking if a user would like to participate, and then a question for each field a supporter would fill out on a New/Mode form, and choose the associated component to map the response to from the dropdown menu (First Name / Last Name / Email / Postal or Zip Code). If the CSV uploaded on the Recipients tab already has some of this information, our chatbot will skip the question. From here, you have two options as to how supporters will continue with their submission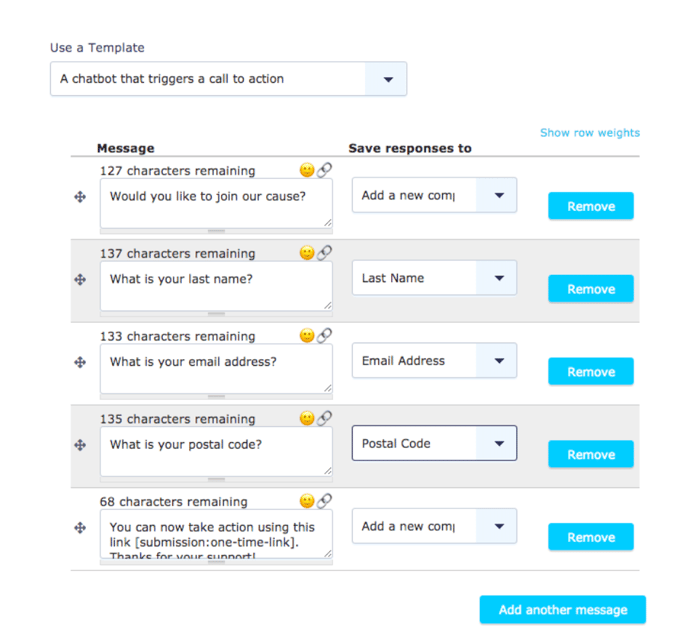 Note: We'll create the default messages and map to the relevant components for the Chatbot conversation automatically, but you can edit the questions to fit your campaign + message


One-time link
Once we've captured all the needed information from the supporter, we can send them a one time link with this token: [submission:one-time-link]. Once the user clicks this link, their information will be submitted, and they'll be guided to the thank you page.
Automatically perform action after final message
If you'd like to skip the One-Time link, you can select Automatically perform action after final message from the Action Submission Settings header. This means that once all the information has been collected, the supporters information will automatically be submitted without the need to press a link.

NOTE: Tweet tools do not support auto-submits at this time

Opt Out
You'll also want to create an option for your subscribers to opt out of text messages. First, define Keywords that you'd like to register as an Opt-Out response.

If you'd like, you can automatically include a message that explains the Opt-Out instructions alongside your initial message:

Area Codes to send with
Finally, you can select which area codes you'd like your messages to send with. Simply type in the area codes, each separated by a comma

SEND
Finally, you made it to the most exciting part! The top of the page has a copy of the Status Report we discussed on the recipient page, but right below it you'll have the option to Send SMS Messages. You have the option to Send a Test SMS to ensure your message / chatbot functions as expected. After, you'll want to confirm that you will be communicating with these contacts in a way that fits within the laws and regulations of the jurisdictions of the sender and receiver of this message.

After that, you're good to hit send, and wait for the responses to come rolling in!