When you sync your CRM to New/Mode, most supporter data is automatically connected to the right data fields in your CRM, but you need to take additional steps to sync addresses.
This walkthrough will be relevant to you if you're working with campaign tools using address-based targeting in which a supporter enters their full address (not postal code only!) into the tool's address fields.
The process is a bit different depending on the CRM:
Step 1: Familiarize yourself with our five handy address tokens. Each of these tokens is associated with an address field filled out by your supporters:
[submission:values:address:thoroughfare]
[submission:values:address:locality]
[submission:values:address:administrative_area]
[submission:values:address:postal_code]
[submission:values:address:country]
Because our tokens are mapped to Google's international standards, they might seem a bit unfamiliar. Here are a few quick translations:
thoroughfare = street
locality = city
administrative area = state or province
postal code = postal or zip code
country = country (ok, that one's a bit too easy…)
Step 2: Go into the Components page under Advanced settings. Scroll to the bottom of the page to create a new component:

Step 3: Select the component type Hidden, and name the tool based on the address field you will associate with it: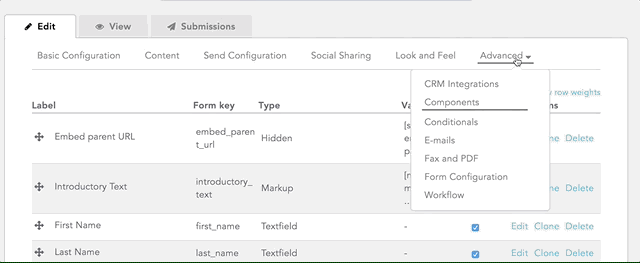 Step 4: You'll be taken to the Edit Component page. Scroll down to the Default Value field and enter the address token you want to be associated with the corresponding CRM field:

Step 5: Below the Default Value field, you'll see a Send to [Your CRM] API menu. Find the CRM field that corresponds with the address token you've just entered: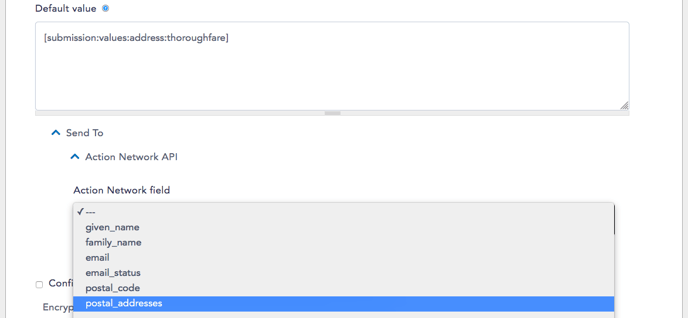 Step 6: Save Component. You'll be taken to your tool preview page. Navigate back to your CRM Integrations screen, where you'll see your newly added and synced address component: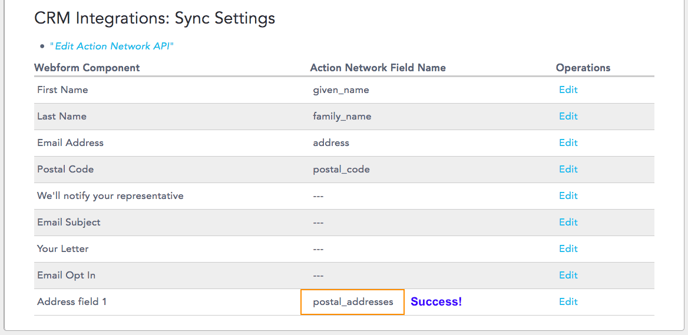 Step 7: Repeat this process for all the New/Mode address components that correspond to your unique CRM address fields.