Once you've connected CiviCRM to your campaign organization, New/Mode's engagement tools allow you to map each component or field from a tool form to your CiviCRM contact fields.
Head over to CRM Integrations in the Advanced settings under the Edit tab: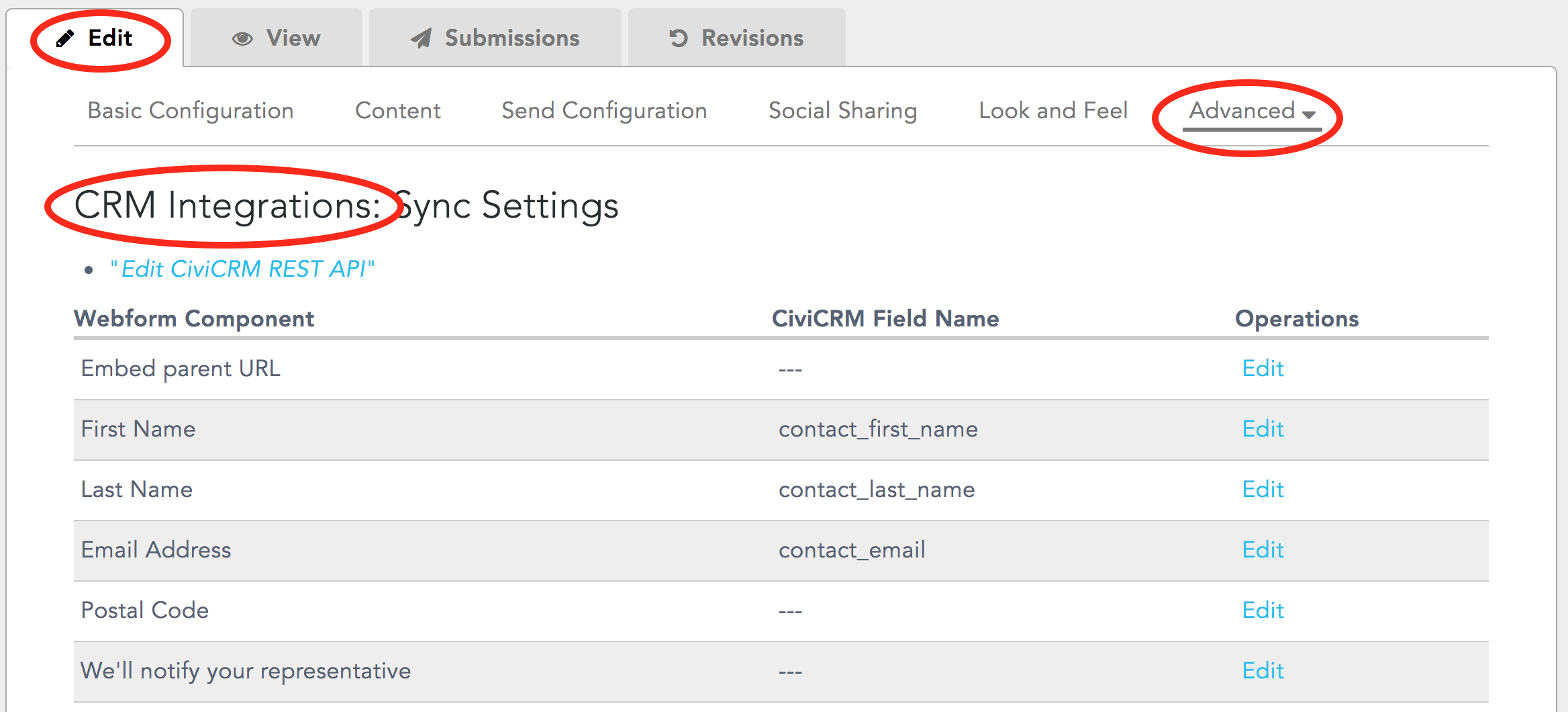 In CRM Integrations, you can:
Sync Components
When you first connect CiviCRM to a New/Mode tool, it will automatically map First Name, Last Name, and Email fields onto your CRM contacts, but you can map additional fields manually: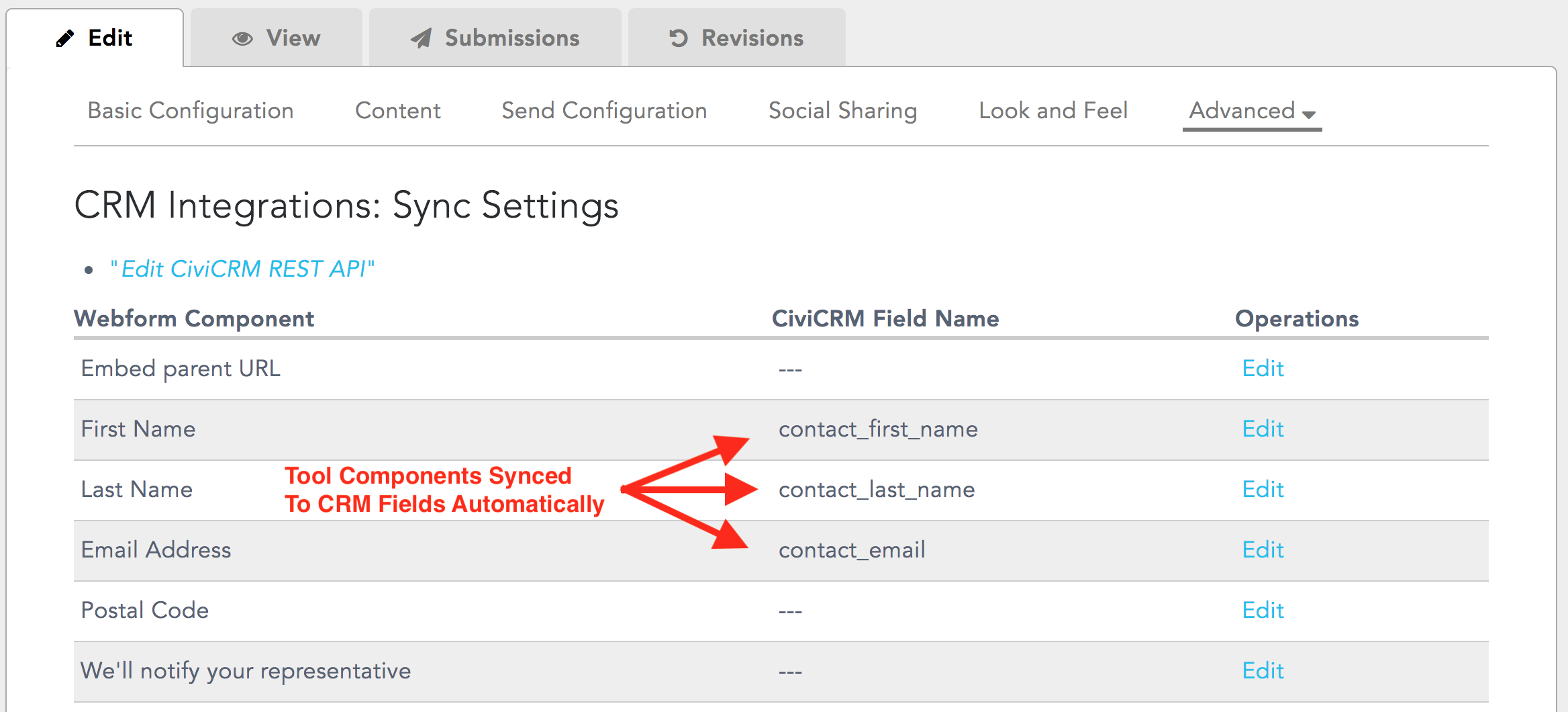 To match campaign tool fields to CiviCRM fields take the following steps:
Step 1: Once you are on the CRM Integrations page for a specific tool, click the blue Edit link beside a form Component (e.g. Postal Code) that you want to map. You will be taken to the Edit Component page:

Step 2: Scroll down to Send To - CiviCRM API and select the CiviCRM field associated with the campaign tool component from the drop down selection:

Step 3: (optional) If you would like to customize other aspects of a tool form component, check out our walkthrough on editing components.
Add Custom Fields
You can add additional custom fields to map from your New/Mode tool onto CiviCRM by clicking the Edit CiviCRM Rest API link under CRM Integrations:

This will take you to the Add New CiviCRM Target page, where you can search CiviCRM fields and map them onto a Constant Value associated with the CRM field, like 0/1, Yes/No, or one of our custom tokens, like so: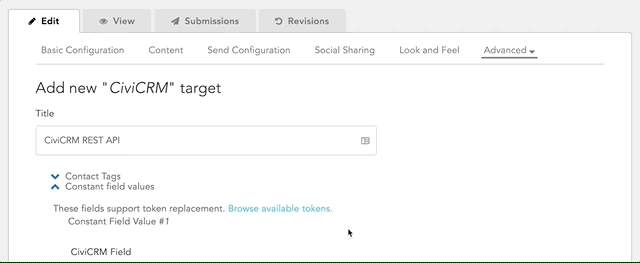 Add Tags
When a supporter completes an action with a New/Mode campaign tool, a tag will be created automatically to associate that action with New/Mode in your CRM. You can modify this tag or add additional tags to the data mapped from your New/Mode tool onto CiviCRM by clicking the Edit CiviCRM Rest API link under CRM Integrations:

Under Add new "CiviCRM" target, you'll see a dropdown menu for Contact tags as well as a list of the current tags you're using in your CRM: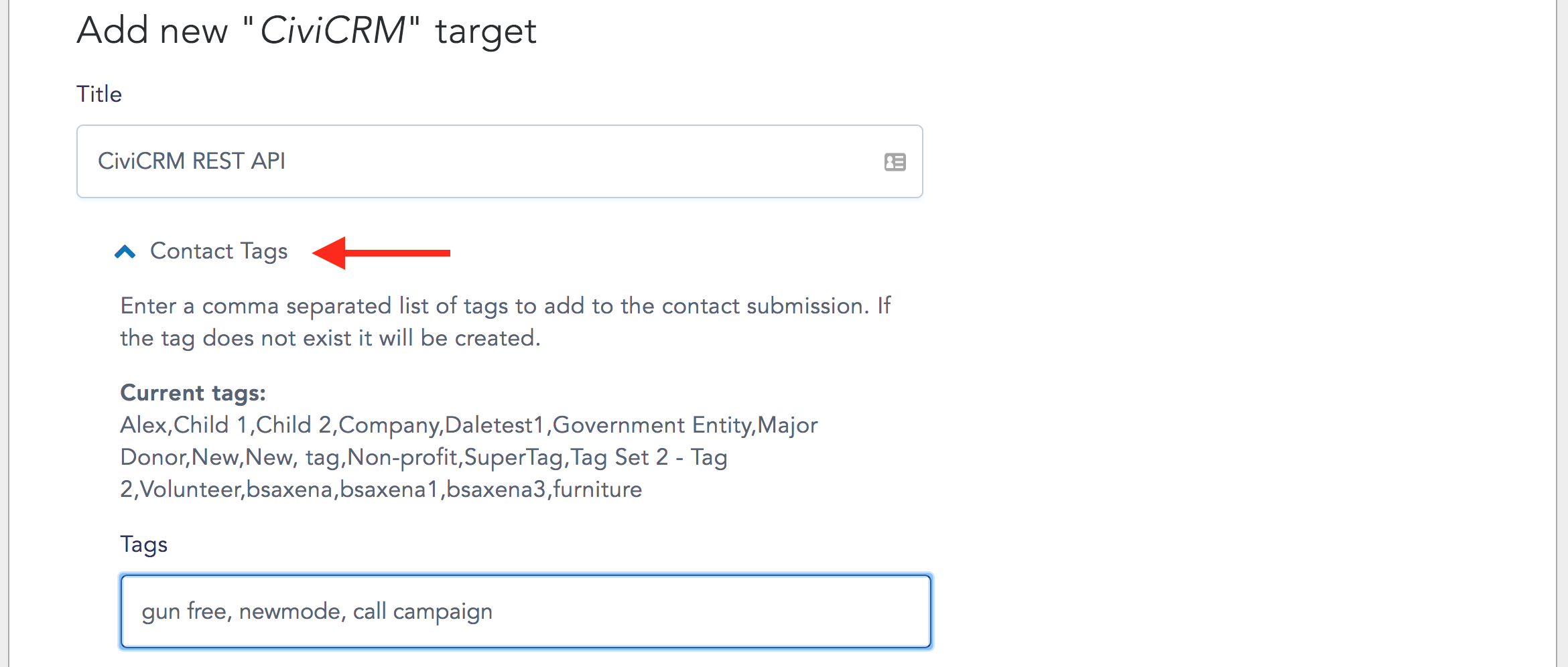 Enter tags separated by a comma. Any tags you enter here will be applied to help organize supporters that take action with a campaign tool as contacts in your CRM. If you are using tags that were created manually in CiviCRM, please make sure you are using contact tags - activity tags are not supported by our integration.
Set up Multi-Value Upsert
When a supporter takes action on your tool, we will either update their record on your CiviCRM instance, or create a new record. Multi-value upsert enables you to enter multiple values for defining the Contact to be updated. If values for all selected fields match, the record will be updated, and if all the values do not match, a new record will be inserted.