New/Mode actions allow you to map each form component (the fields completed by your supporters) to your NationBuilder fields, so you can send that supporter information exactly where you need it.
Syncing opt-in status
Step 1: On your action, click on Advanced and select CRM Integrations.
Step 2: On the list of fields, find Email Opt In and click on the blue Edit link. (If you don't see an opt-in field, create an opt-in componend for your action following the steps here).

Step 2: On the Send To section, select /tags as the NationBuilder field.

Step 3: Under Option settings, check the box for 'Customize keys'.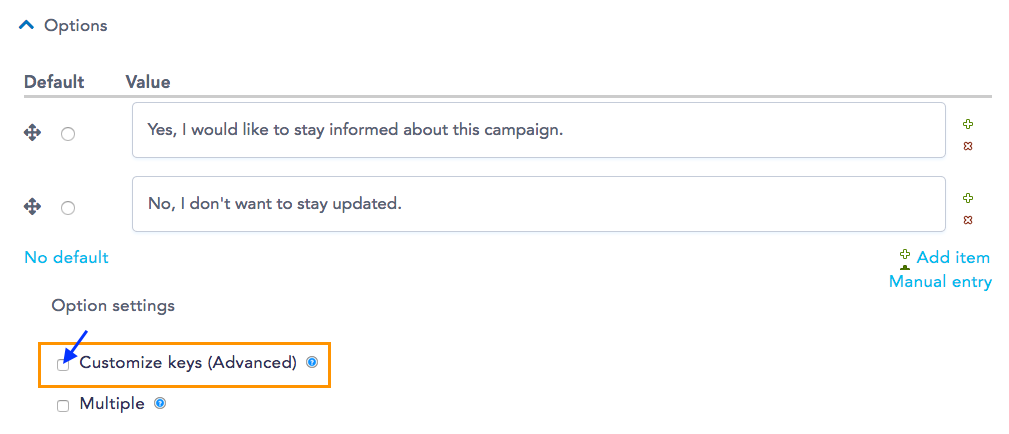 Step 4: Now that the keys fields are visible, enter the tags you want to use for each option.

Step 5: Click on the 'Save component' button to save the changes.
You can also use tags to label actions so that you can see in NationBuilder which campaigns each supporter has participated in. Take a look at our guide!
Syncing other fields
Step 1: On your action, click on Advanced and select CRM Integrations. You'll see that some basic fields have been automatically mapped on to their associated NationBuilder fields: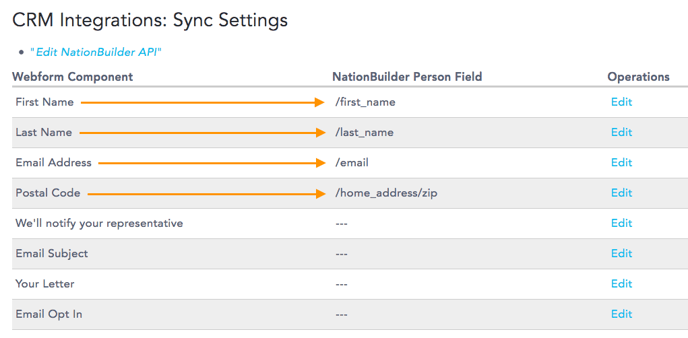 Step 2: You can click the blue Edit link, which will take you to a page where you can edit any of the existing Webform Components and sync them to an associated NationBuilder field under the Send to NationBuilder API dropdown: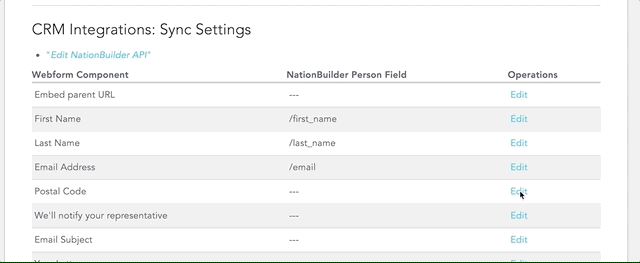 Syncing data to NationBuilder through Constant Values
You can also map campaign action components onto custom NationBuilder fields by creating a custom field in NationBuilder, then finding that field under the Edit NationBuilder API page: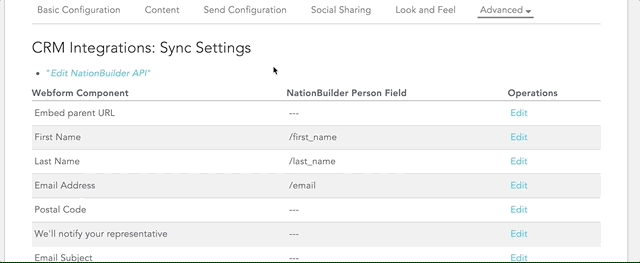 From the Add New NationBuilder API target page, you can also set up an amount of political capital (or social capital, karma points, community points - whatever you call it around your house!) that you'd like to award to supporters who use your action.
Just add the amount of virtual currency you want associated with an action and (optionally) label it to link it to the relevant campaign:

NationBuilder fields can also be mapped onto metadata generated by supporter actions using our custom tokens. Again, this can be done under the Edit NationBuilder API page: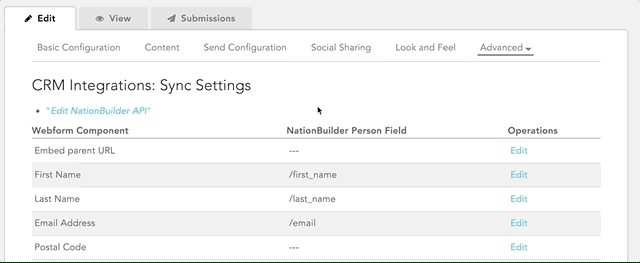 On this page, you'll find a browsable list of tokens to associate with your custom NationBuilder fields: