New/Mode engagement tools allow you to map each form component (the fields completed by your supporters) to your NationBuilder fields.
To sync, NationBuilder requires values for First Name, Last Name, and Email Address fields. If your tool doesn't include all three of those fields, you can still sync the data you collect into your Nation but we'll add placeholder values to any blank fields and those will replace your existing records.
Here's how to match form components to NationBuilder fields:
Step 1: Go to the CRM Integrations screen under your campaign tool's Advanced dropdown menu. You'll see that First Name, Last Name, and Email Address have automatically mapped on to their associated NationBuilder fields:

From this screen, you have a few options for syncing tool components to NationBuilder fields:
Step 2.1: You can click the blue Edit link, which will take you to a page where you can edit any of the existing Webform Components and sync them to an associated NationBuilder field under the Send to NationBuilder API dropdown: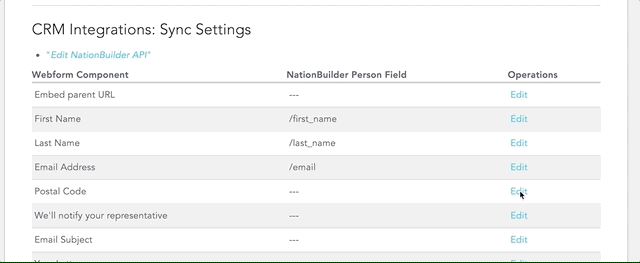 Step 2.2: You can also map campaign tool components onto custom NationBuilder fields by creating a custom field in NationBuilder, then finding that field under the Edit NationBuilder API page: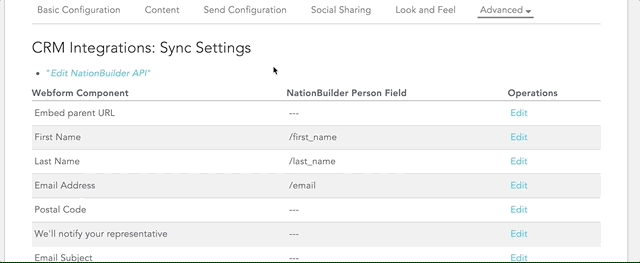 From the Add New NationBuilder API target page, you can also set up an amount of political capital (or social capital, karma points, community points - whatever you call it around your house!) that you'd like to award to supporters who take action using a campaign tool.
Just add the amount of virtual currency you want associated with an action and (optionally) label it to link it to the relevant campaign:

Step 2.3: NationBuilder fields can also be mapped onto metadata generated by supporter actions using our custom tokens. Again, this can be done under the Edit NationBuilder API page: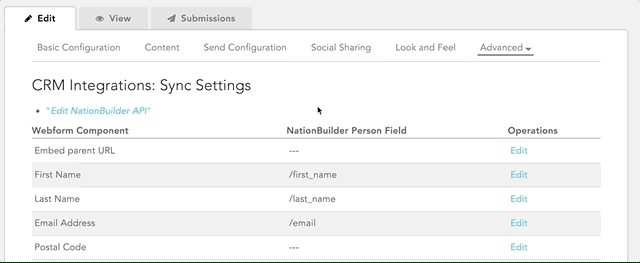 On this page, you'll find a browsable list of tokens to associate with your custom NationBuilder fields: