Once a supporter has taken an action, your action will automatically take them to a Thank You Page or Custom Redirect URL (maybe a fundraising page or another action page...).
You can choose between a Thank You Page or a Custom Redirect URL, on your tool Content screen under Supporter Content. Here, you can customize your thank you message or which URL supporters are sent to.
Thank You Page Message

Once you've arrived at the Thank You Page Message text box, you can choose to enter your own unique thank you message or stick with our basically perfect default text. Use the toolbar for formatting so you get the exact look you want.
PRO TIP: Be gentle with the bracketed text in this text field! These are Share Button Tokens and they will appear on your Thank You Page as links to share your campaign on Twitter, Facebook, or via Email.
When you're all set up, a Thank You Page that is left justified using a default font will look something like this: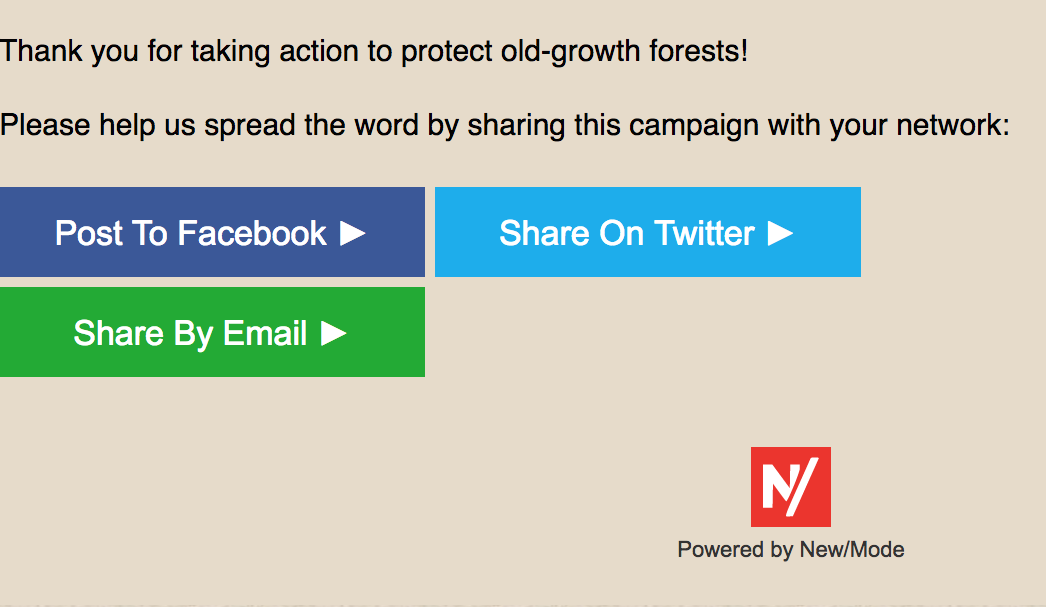 Custom Redirect URL

If you wish to send your supporters to a page other than your Thank You Page, simply select Custom Redirect URL from the Thank You Page Options, and enter the URL in the Redirect URL text box.
All set? While we're at it, let's customize our Thank You Email...