New/Mode's Social Sharing optimization can test and choose which share page to display, automatically optimizing your click through and conversation rate
All of the share buttons that you customize under Social Sharing can be tested for success.
A/B testing social media shares can tell you which Tweets, Facebook headlines, and Emails bring more people from your supporter's social networks back to your website. Good share content matters — Upworthy found testing different headlines can make the difference between 1,000 visitors or 1,000,000.
It's easy to run A/B tests on your share posts and unlock the power of social sharing. We recommend trying out at least two versions of share text on Email, Facebook, and Twitter to learn what language gets more people clicking back to your website.
You can choose to create up to 3 variants for both Facebook and Twitter shares with our A/B testing roll out menu: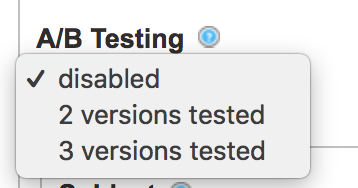 To A/B test, select how many versions you would like to test, save the Content page to see all versions, and repeat the steps to set up your Social Sharing button content as needed. You can either A/B test the same text with a different image, or an entirely different combination.
Once those click-throughs start to pour in, your tool will automatically start favoring the best performing Email, Tweet, or Facebook share. But please note that A/B test results require some interpretation, and if there's little difference between the success of different versions, the traffic split will remain fairly even.