Here's how to get your Hubspot CRM connected to your New/Mode campaign. This will allow the information in your campaign tool data fields to be mapped onto your CRM data fields.
Connecting Hubspot to New/Mode is kind of like doing your taxes. It's easy, as long as you get all your information organized first. So before you begin, make sure you have:
Your Hubspot Portal ID (Hub ID). Your Hub ID is visible in the upper right-hand corner of your screen when you're logged into Hubspot.
A Hubspot form to associate with the campaign tool you'll be connecting to Hubspot.
Step 1: All set? Now follow the steps to Create an Integration.
Step 2: Once you have selected Hubspot as your CRM Service, you'll be asked to enter that Portal ID:

Step 3: Click Save at the bottom of the page. You will be taken to your campaign tool's View screen, and prompted to provide additional configuration data:

Step 4: Follow the Click here link in the prompt to establish or test your connect. You will be taken to your Hubspot account, or if your connection has already been established, you'll see a confirmation on your Hubspot service page:

You can always get back to this page to Edit or View your CRM settings by clicking the link that is now visible under Services on the lower right-hand side of your Organization Dashboard:

Step 5: To connect Hubspot to a specific campaign tool, navigate to the Basic Configuration page for that tool, and scroll down the page to Services. Make sure that Hubspot is selected under CRM Service:

Step 6: Save Basic Configuration. Once you have connected a specific tool to Hubspot, you will be prompted to continue configuring your integration. Click the provide it here link:

Step 7: You will be taken to a page titled Add new Hubspot API target. You will need to select the Hubspot form you want to be associated with your campaign tool, and you'll be able to select from a list of all your Hubspot forms:

Step 8: Once you Save your new target, you'll be sent to your CRM Integrations page, which is always accessible through a tool's Advanced settings dropdown menu. This page lists all the components of the campaign tool you're working with.
On this page, you can also navigate back to your Add new Hubspot API target screen through the Edit Hubspot API link: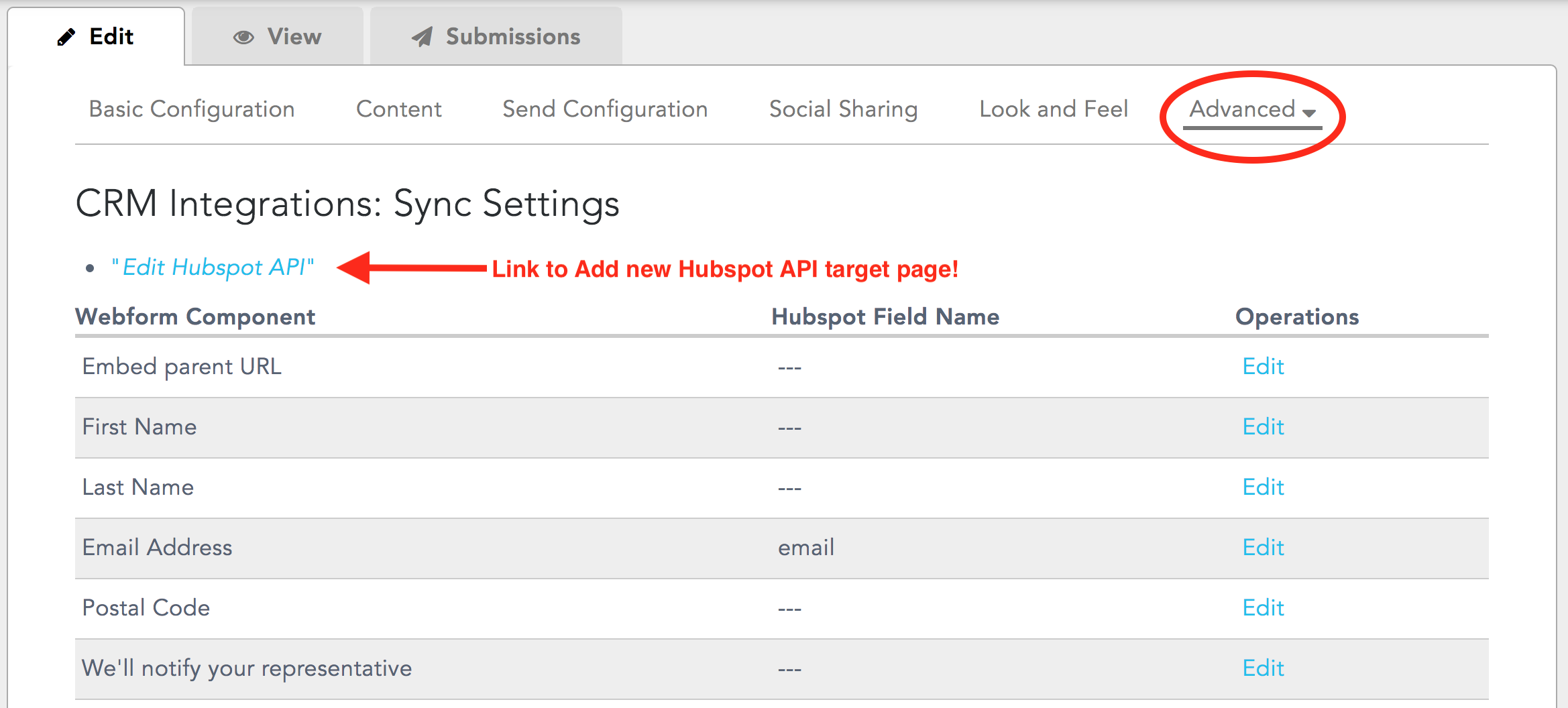 Step 9: On your CRM Integrations page, you'll see that only the email field has been synced automatically to the associated Hubspot form. To map additional fields from your campaign tool to Hubspot, click the Edit link to the right of the component/field name that you want to sync:

Step 10: You'll be taken to the Edit Component page for the tool component you want to sync. Scroll down to the Send to Hubspot API dropdown menu, and select the Hubspot form field you want to be associated with that component:

Again, note that you will only see fields that are set up on the Hubspot form you selected to associate with this campaign tool.
Repeat these steps for all the fields you want to sync!