Advocacy actions are how you interact with your supporters and empower them contribute to the causes that matter to them.
An Advocacy Action is an action used to connect your supporters with decision-makers. There are 6 action types to choose from.
To create an Advocacy Action, navigate to your Dashboard, and select Create an Advocacy Action, then, choose which type of action you'd like to create.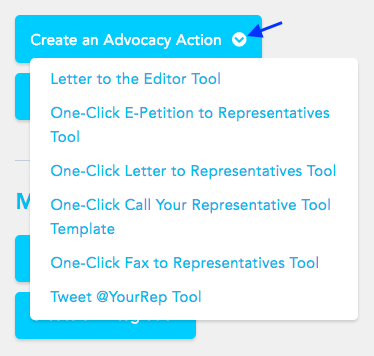 Outreach Actions
After many conversations with our subscribers, New/Mode has decided that it's time for us to deepen our focus on our core Civic Impact features. As of June 1, 2021 we pushed the pause button on our SMS keyword and outreach actions and they are no longer accessible.
We're stepping back from SMS features that are available elsewhere and doubling down on what our community needs most from us:
Providing campaigners with unique and valuable tools supporting the best-in-class advocacy experience
Expanding our dataset coverage
Improving the reliability of delivery of our messages to targets
Enhancing our analytics capabilities to inform and power more impactful campaigns
Our vision is to establish New/Mode as the global system of record for Civic Impact work, and we are confident that with your continued support, we will be able to realize it. Thank you for your incredible work — and for being a part of our amazing community!
---
Last updated: June 4, 2021