A Thank and Spank campaign allows you to create conditional content for targeted decision-makers based on whether they support or oppose your organization's efforts (and, of course, more broadly, the principles of truth, justice, and freedom).
If you'd like to use our Thank and Spank feature please let us know at support@newmode.net and we'll enable this new feature on your dashboard.
To set up a Thank and Spank campaign using your Email Tool, follow these steps:
Step 1: Go to your campaign tool's Content screen under the Edit tab, and scroll down to Target Content Settings. Under the Type of message to decision makers header, select the Thank and Spank radio button. The page will automatically update with this selection.
Step 2: Next, scroll down to the Target Content section. Here you'll see the Email to Targets field that is usually configured on this page, now including a few additional Rule settings: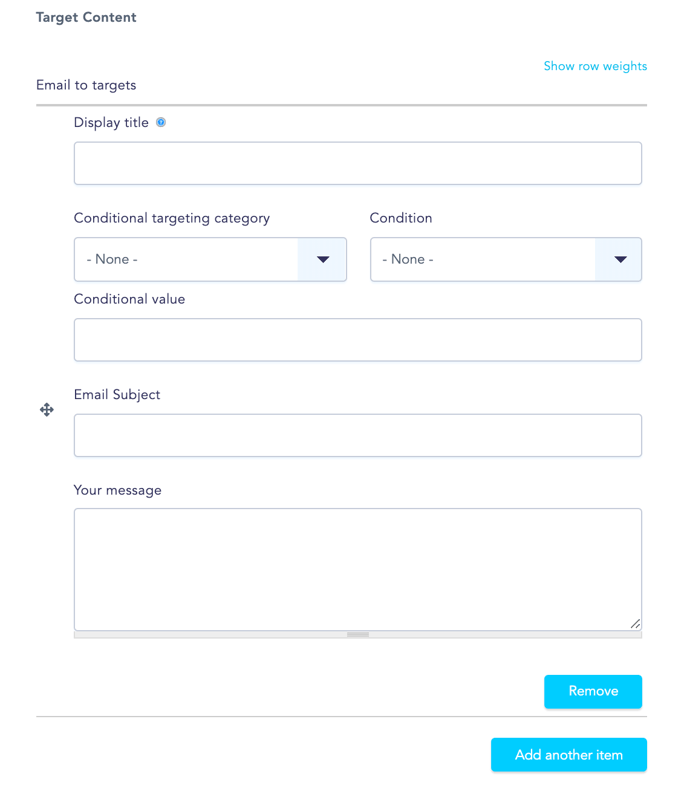 Step 3: Set up a Display Title for the target group. This is a good way to let your supporters know where their target stands on the issue your campaign is about, or what group they fall in to.

Step 4: Set up a Rule for who this message will be directed at based on the following settings:
Conditional targeting value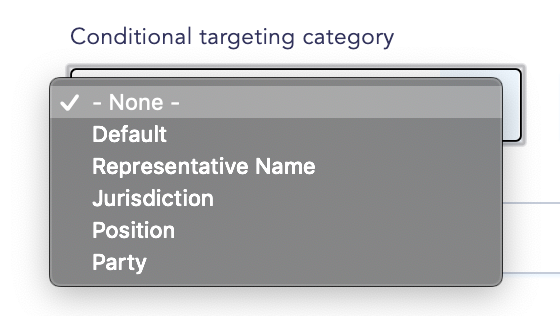 PRO TIP: The first category you'll want to set up is "Default." This will target anybody not specified by other rules. When choosing Default, you can leave the values for Condition and Conditional Value blank.
Condition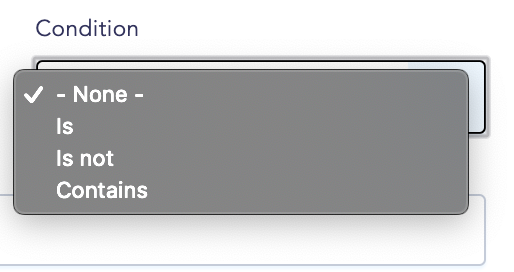 Conditional Value
Note: You can target multiple conditional values by separating each value with a single ",". There is a 255 character limit for the Conditional value field. If you run into this character limit, we recommend creating a new rule to add all values that couldn't be added under the original rule.
Email Subject
Create an email subject for your condition

Your message

Write the content of the message that will be sent to the representative

Step 5: Add conditional content for a second target by clicking that friendly blue Add another item button just between the Rule fields, and repeat steps 2 and 3: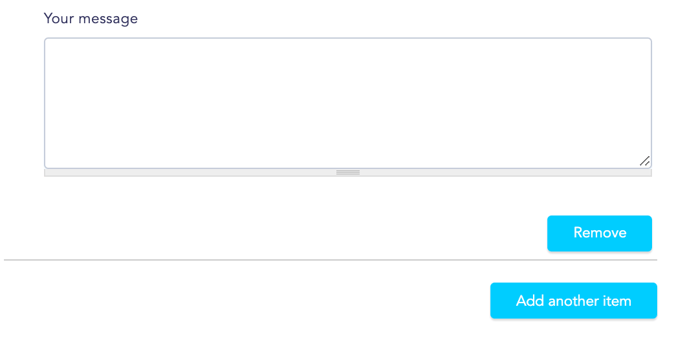 Although we call this Thank and Spank, you can have more than two types of conditional content here. For example, if it was 1973 and you wanted to criticize the Nixon administration's support of the coup in Chile, you could have a set of 3 conditions that direct supporters to:
(1) criticize Nixon with a message conditioned by the rule Representative Name Is Richard Nixon,
(2) thank Democratic reps who oppose U.S. support of the coup with a message conditioned by the rule Party Is Democratic,
(3) ask Republicans to withdraw their support for Nixon's administration with a message conditioned by the rule Party Is Republican.
Step 5: Once your conditional messages are in place, click Save & Continue at the bottom of the Content page.
Actions that use conditional targeting won't display the messages like single message actions do, so let your supporters know that they can click on the representative name to read the letter they'll be receiving.
Step 6: Open the Preview page. You won't see the letter displayed, so click on a target to see an Email Preview. This will help you confirm that the right emails are being associated with the right targets: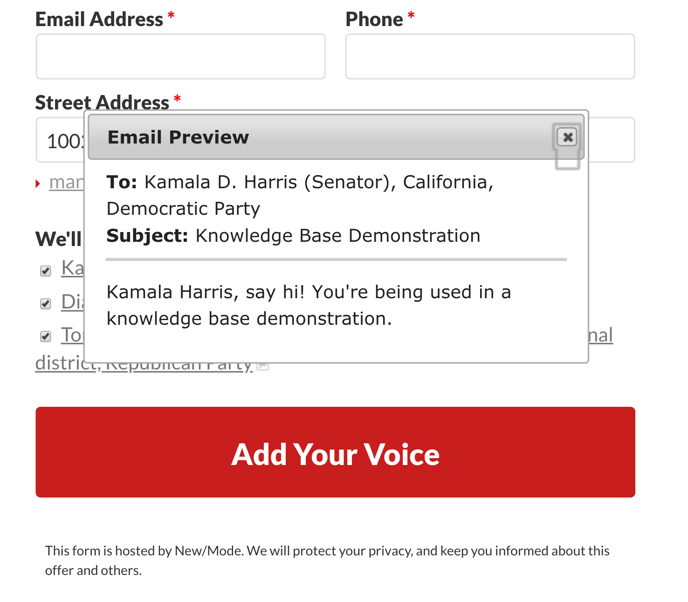 Step 7: Test your action throughly to be sure that your Thank and Spank messages are set up the way you want them!
Learn how to deploy a Calling Tool Thank and Spank campaign here!
If you change a Thank and Spank action back to single message it will need a bit of backend tinkering to display the letter. Reach us at support@newmode.net and we'll get it sorted for you!