Once you've got the Basic Configuration of your Petition Tool set up, you can start creating content for your campaign on the Content screen under the Edit tab:

Below you'll find a quick cheat sheet describing all the types of content you need for your Petition Tool. You can learn more about using and optimizing each type of content by clicking on the links below:
Pro Tip: Remember, you will be asking users to deliver a clear list of demands to their representatives instead of a letter, so you'll want to keep your content as powerful and concise as possible. If you're looking to have your subscribers send a more personalized letter, consider creating an Emailing Tool!
A Header Image: Manage how the image and title of your Petition Tool will look on your campaign landing page. You don't want too much clutter at the top of the tool to distract from the action button, so use it wisely!
Supporter Content
The Supporter Content section of your tool Content screen looks like this:

In this section, you'll find all the components of your campaign tool that will guide supporters through the process of taking action:
Introductory Text: This is your Call to Action! By default, it appears below the header of your campaign tool. Tell your supporters what they can do to make a difference.
Key Points: The Key Points section of your Petition Tool should contain the text of the petition that you're asking supporters to add their voices to.
Action Button Label: Inspire your supporters to share their voice with an inspiring Action Button Label. We've provided you with an awesome default message, but you can customize it to make it perfect for your audience.
Thank You Page Message: After they complete an action, your supporters will be taken to this page. Tell them they're great, and offer them a chance to share your campaign with our social sharing buttons. You'll also have the option to send them to a Custom Redirect URL instead of a thank you page.
Thank You Email Message: After your supporter completes an action, they'll receive a thank you email from your organization.
Target Content
Target Content Settings: There are two options you can toggle in this section. First, you can Disable editing of message content. This can be useful on petition tools, as it ensures you supporters don't need to edit or change the message sent to their representatives. You also have the option to Show the opening and closing salutation on the form.


Email Subjects: Here, you can edit your email subject. You have the ability to add multiple subject lines if you'd wish to do so with the add another email subject button. By default, your subject line will say "I just signed [your organization's] petition"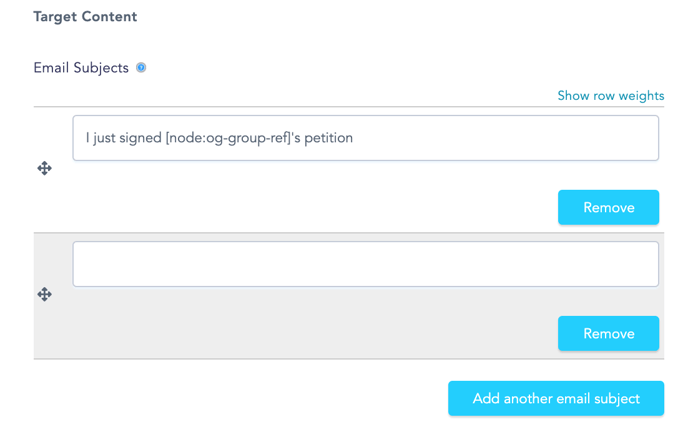 Opening Salutation: This is where you enter the greeting for your target. By default, we suggest using a Token to personalize the greeting.

Your Petition Message: This is where you write your petition message. This will be delivered to your targets, so ensure your petition asks are clear and concise.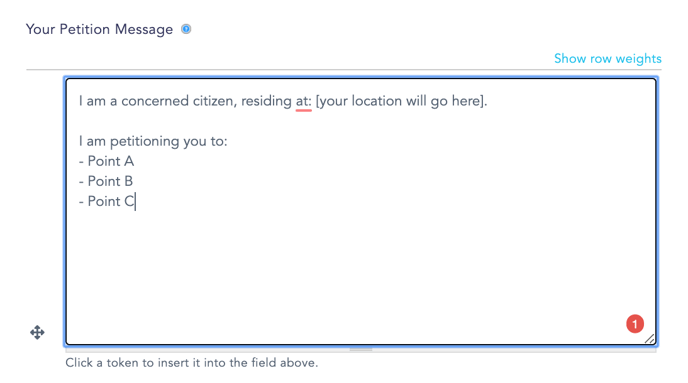 Closing Signature: This is where you sign off the message. Just as the opening salutation, we recommend using tokens to personalize this message.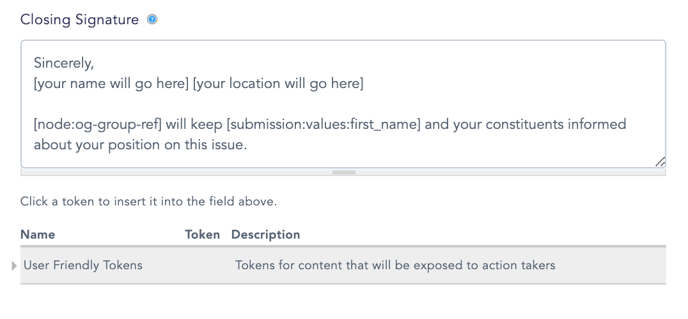 And that's everything! Click save and next to move onto send configuration!