Asking your supporters to call their representatives and speak out on the issues that matter to them can be one of the toughest campaign engagement barriers to cross. Even committed action takers can get nervous at the prospect of identifying the right rep and saying the right thing. Sweaty palms, anyone?
New/Mode's One-Click Calling Tool is designed to break down this barrier by guiding supporters through the process: I click a button, my phone rings, and I'm prompted on who I'm about to make contact with, all while a list of helpful talking points remains visible on the screen in front of me.
These are the nuts and bolts of the tool, but we've also got 5 things that you can do to convert new or nervous supporters into bold action takers:
Keep Tool Design Simple
Visually, it's a good idea to keep a calling tool as simple as possible. The big, friendly Make the Call button should be visible on your landing page without supporters having to scroll down to find it:

Keeping the call button accessible means you want to keep the text at the top of the tool to a minimum. Many successful campaigns simply offer an explanatory message to help supporters understand what they're about to do. For example: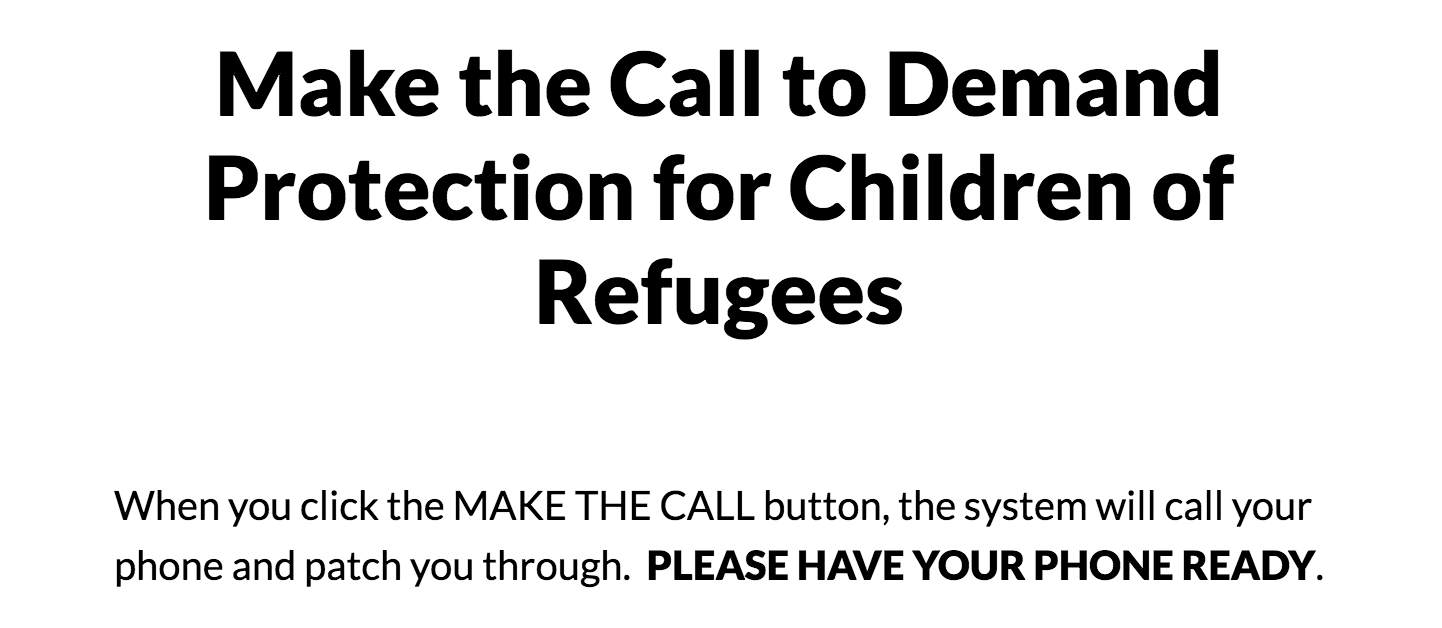 Explaining what to expect from the calling tool can be helpful for supporters unfamiliar with the idea that a web application can call their phone to connect a call for them.
Our campaign experts advise against adding too much additional content to this page because once supporters click Make the Call, they'll be taken to Page 2 of the calling tool, and lose sight of any important information you put on Page 1.
Instead, we recommend using the calling tool for its functionality, and putting important talking points and campaign details on the rest of the landing page, which will remain static.
Let Landing Pages Do the Heavy Lifting
All New/Mode tools are designed to nestle gently and safely into your landing page. A tool form can take up the entire landing page, but often campaigns position them to one side of the page, as in the below image. In the case of 2-page forms, like the calling tool, this allows you to include a static text screen for supporters to refer to as they use the tool.
A strong landing page will explain the goal of your campaign as simply and directly as possible. Think of the information on the page operating as a kind of hierarchy. The most important details for making the call should go at the top, and then supporters can scroll down for deeper levels of data and research. Near the top of the page, include suggested talking points to make supporters feel confident that they've got the information they need to speak to their representative over the phone.
As you develop these talking points, keep in mind that providing supporters with a script is not always a recipe for success. Instead, it can be worth offering helpful guidelines:
"If you're going to say one thing, say this!" (press your campaign agenda)

The call can be short! No need to make a big speech.

Don't hesitate to talk about who you are! ("I'm a voter! I care about the rights of child refugees because…")

Ensure supporters who are unfamiliar with the process of calling their rep that it's ok to leave a message with a staffer or on a machine.
This initial setup can be a bit of work, but once you develop the landing page, you can use it again and again for future campaigns!
Optimize Targeting
When setting up a calling tool, emphasize accessibility. Consider how many targets you have, and how many supporters you think will make the call. Will these all go to the same target? Are there some districts that will get more calls than others? Are you working with a coalition that is IDing many targets? Consider all these factors as you set up and select:
The Call Tool Voice Number: This is the number that will appear when the tool calls your supporter. Make sure it's as regionally recognizable as possible.
Randomize: Unlike our other campaign tools, calls can only happen one at a time! Use the randomize target function under Basic Configuration so that supporters won't get the same target and be calling all at once.
Daisy-chaining: The calling tool will automatically connect supporters to another representative once a call is complete. You can determine the number of calls to daisy-chain, but we recommend keeping the number low (3-5) to avoid putting too much pressure on even an eager supporter.
Guide Supporters Before the Call
Once you've set up a new calling tool, you'll notify supporters about the opportunity to take action via email and through social media. An added benefit of creating a short video of someone using the calling tool is that you can also post it to social media as a way to promote a new action.
When sending out that first email blast, consider your audience. Have your supporters made a call before? A more senior audience might need help understanding how a button on a website becomes a phone call. A new audience might benefit from first being directed to an Emailing Tool, then prompted to make a call on the Thank You Page. You can also take some pressure off by encouraging new supporters to call in the evening, when they are more likely to be able to leave a message or speak to an inexperienced staffer.
Guide Supporters After the Call
Your calling tool creates three points of contact after a call is made: the Thank You Page, the Thank You Email, and the Thank You Text Message. Having so many points of contact creates opportunities for different types of followup asks. You might ask for a donation on the Thank You Page, a social media share in the Thank You Email, and a forward to friends in the Thank You Text. Include a link in the Thank You Text to make sharing super easy!
Be Data-Driven
Our calling tool produces a lot of data. It has a feedback form on Page 2 where supporters can describe their experiences, and an Analysis Tab that provides detailed data on how long supporters are staying on the line. What can we say but react to this data!
Experiment with the

Introductory Voice Message

supporters will hear when they first pick up the phone.

Retool your content if supporters are having trouble understanding how the calling function works.

Change up talking points so that the calls supporters make stay unique and relevant as the campaign evolves.
And remember, keep it short and sweet! A call is a big ask, and you want the process to be as streamlined and effortless as possible so that they're making the call and sharing the action with their social networks.