Once you've got the Basic Configuration of your Letters to the Editors (LTE) Tool set up, you can start creating content for your campaign on the Content screen under the Edit tab:

Below you'll find a quick cheat sheet describing all the types of content you need for your LTE Tool. You can learn more about using and optimizing each type of content by clicking on the links below:
A Header Image: Manage how the image and title of your LTE Tool will look on your campaign landing page. You don't want too much clutter at the top of the tool to distract from the action button, so use it wisely!
Supporter Content
The Supporter Content section of your tool Content screen looks like this:

Introductory Text: This is your Call to Action! It appears on Page 1 of your campaign tool. Tell your supporters what they can do to make a difference.
Key Points: If you want to encourage your supporters to write their own letter (which we recommend!), you can enter some suggested talking points to guide them, and updates these points regularly to keep sent letters minty fresh!
Action Button Label: Inspire your supporters to share their voice with an inspiring Action Button Label. We've provided you with an awesome default message, but you can customize it to make it perfect for your audience.
Thank You Page Message: After they complete an action, your supporters will be taken to this page. Tell them they're great, and offer them a chance to share your campaign with our social sharing buttons. You'll also have the option to send them to a Custom Redirect URL instead of a thank you page.
Thank You Email Message: After your supporter completes an action, they'll receive a thank you email from your organization.
Target Content Settings
The Target Content Settings section of your tool Content screen looks like this:
Disable message editing: Choose whether you'd like supporters to write and edit their own letters, or use letters you've created. For our LTE Tool, we strongly encourage you to let supporters write their own unique letters.
Allow users to upload an image: Allow supporters to include an image in their letters.
Show opening and closing salutation on the form: Choose whether your opening and closing salutation will be displayed on the form. If unchecked, a system message will let your supporters know their salutations will automatically be added to the email.
Target Content
The Target Content section of your tool Content screen looks like this: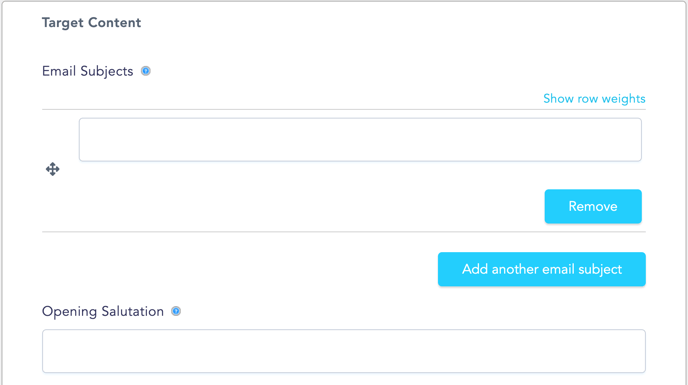 In this section, you'll find specialized fields unique to our LTE Tool. You can enter original content in each field, and include custom tokens to automatically add features like a campaign progress bar or fields that will fill with information about your targets.
Target Content includes:
Email Subjects: These are the subject lines that will appear in the emails your supporters send. Your supporters will see this text on Page 2 of your campaign tool. They will also be able to write their own headline if they're feeling creative.
Opening Salutation: This is where you enter the opening salutation of the letter. For LTE tools, a standard salutation would be "Dear Editor."
Your Message: This is the body of the letter that will be sent out to the newspapers in your supporter's community. By default, it will appear under Email Subjects on Page 2 of your campaign tool.
Closing Signature: This is where you enter your subscriber's default closing signature. We recommend using tokens to customize the closing signature.